The wine region of Negotin, located in Eastern Serbia, has historically been very strongly linked to the French wine industry, especially during the phylloxera outbreak decades. Building on such history, the developments in this important wine region during the last decade have become increasingly interesting. Matalj Winery, jointly with other local winegrowers, has been determined to recreate a part of the historical heritage of this important region.
This winery has been very successful in growing both international and some local, almost forgotten grape varieties, such as Bagrina or Crna Tamjanika, across more than 20 hectares of modern vineyards at three different localities. The two mentioned old varieties are not self-pollinating, which makes them even more demanding, yet at the same time more intriguing.
The Negotin region is characterized by high GDD (Growing Degree Days) numbers. This fact has enabled the winery to produce one of the best Cabernet Sauvignon wines in Serbia, from one of the best-performing vineyards, surrounded by a forest, at the microlocality of Tannic. This best-performing wine from this specific vineyard, called Kremen Kamen, has been awarded numerous medals at various national and international wine competitions.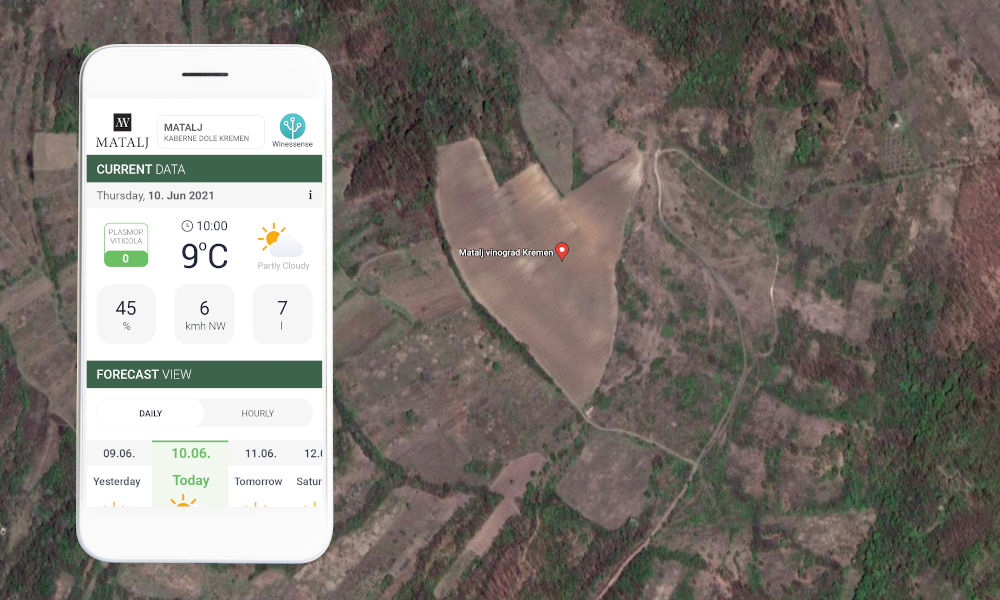 Just during the last year, two consecutive vintages of this wine, from 2016 and 2017, have both been awarded a gold medal at Decanter World Wine Awards 2020, one of the most renowned international wine quality competitions. This result is obviously unique and undoubtedly comes as a result of great skill and expertise.
However, the question that is always open is how to make sure this vineyard continues to produce the highest quality grapes from year to year in a sustainable way. Sustainability is a major challenge, even more so with the evident climate dynamics we have been witnessing during the last decade.
In an attempt to find a way to tackle this major challenge, Matalj Winery has deployed a Winessense pilot program in this best-performing vineyard. The overall expectations are to continuously quantify the disease pressures and obtain actionable insight from this vineyard, enabling the absolute minimum of any type of chemical intervention or action. This strategy will directly decrease any influence on the soil and living ecosystems in the vineyard, increase the longevity and facilitate the best possible long-term performance of this great winegrowing site.